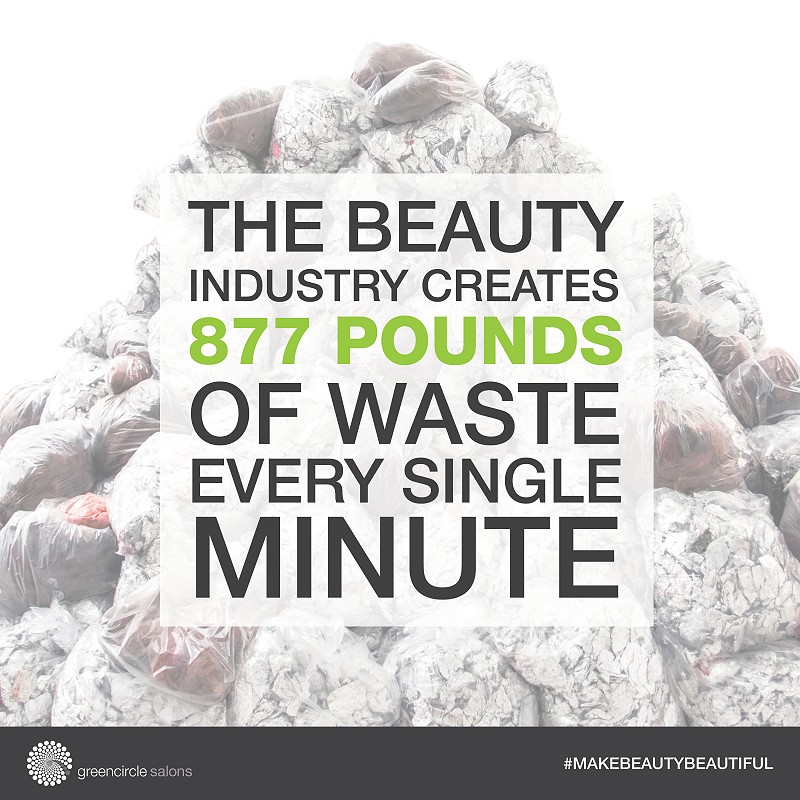 Did you know the beauty industry produces 120 billion units of plastic a year? That equates to 877 pounds of waste a minute to our landfills. NOOOO!!
April 22, 2021 was Earth Day but every day is Earth Day at VHL. We keep environmental responsibility front of mind every day as one of our guiding values, as we have for over a decade. We partnered 10 years ago with a Toronto based organization, Green Circle Salons, to ensure we reduced our environmental impact in a significant way. GSC recycles and repurposes salon waste including leftover colour, foils, product tubes and those dreaded aerosol cans. Metals are melted down and used in the production of new products like bicycles and car parts.
We were proud to be one of the first salons on Vancouver Island to become a certified sustainable salon through this program, and we remain proud of this certification today. In 2020, through this program alone, VHL diverted nealy 200 lbs. of waste away from landfills, items not included in our local recycling & compost programs.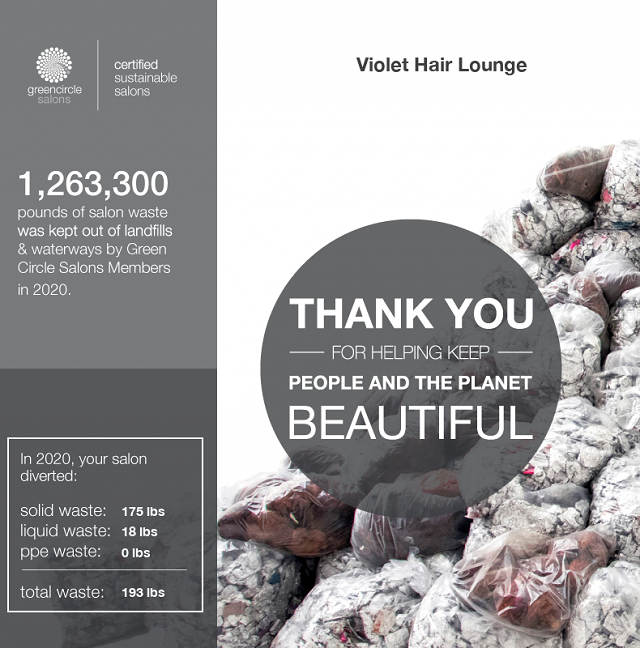 Every day our clients leave the salon lighter, and we have the hair to prove it! Through GSC, these clippings are recycled to make products for stormwater filtration, oil spill collection & more. We also encourage clients who are making a big change by cutting off lots of length to donate their locks to a charity of their choice (Wigs for Kids BC is one of our faves).
The need for masks, gloves, disinfecting wipes and similar products has significantly increased in the past year. We collect these at VHL and they are used for biofuel, powering clean energy production with the leftover ash being used as filler in asphalt. All of our single use items like nail files, waxing strips, cotton pads etc. are also repurposed in this way.
We know the best part of your hair appointment is the scalp massage. We have elevated this experience by replacing our shampoo heads with Ecoheads. Not only do they filter impurities in our water, they increase water pressure while reducing water consumption by 65%. Incredible win-win, right?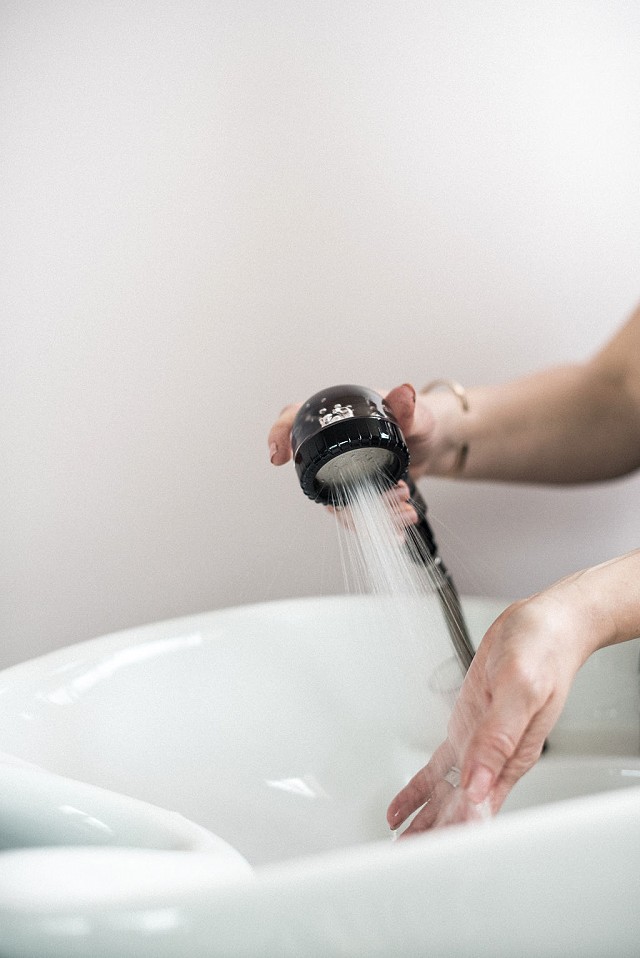 Like any household with kids, our laundry cycle is never ending - or it would be without EasyDry! These fantastic towels save us hundreds of loads of laundry and thousands of litres of water every year. These environmentally-responsible towels not only reduce our water use, they are also sustainably produced from closely monitored sources without the use of chemicals and are fully biodegradable within just 12 weeks! These wonders aren't flimsy though - they will actually stand up to several uses and washes. Many VHL clients take their EasyDry home and use them for their hair and - when they start to fade - for cleaning tasks. They're excellent for house cleaning and amazing for vehicle detailing, inside & out!
With the use of EasyDry, we do only a single load of laundry most days at VHL, and to really reduce our impact, we have switched to (and love) TruEarth Laundry Detergent eco-strips. These reduce plastic waste, water use & shipping - and get our aprons and towels clean chemical-free! We love them so much and had so much interest from clients we tell about this awesome Canadian product, that we have started stocking them in our retail area.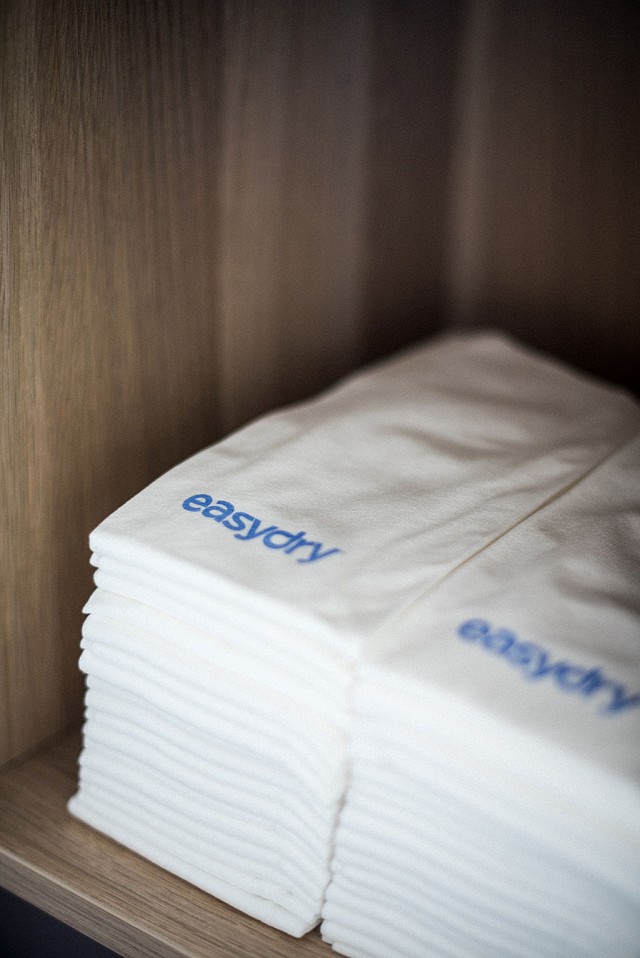 The biggest choice we make for the environment in our business are the product lines we use & sell, and the companies behind them. We conciously select environmentally-commited suppliers with aligned values. What we put on our hair & bodies - and down our drains - matters! The clean hair care lines we choose - Kevin Murphy, Eleven Australia & Loma - are some of the best available with healthy & environmentally safe ingredients.
One shining example of this from Kevin Murphy, is their conversion of plastic product packaging to use 100% ocean waste plastic. As we restock we are thrilled to see more & more of these on our shelves. Wonding if your Kevin Muphy is the new packaging - look for the"OWP" imprint on the side. And if you've ever wondered about the odd squared shapes of the KM bottles - they are designed intentionally to pack & ship efficiently.
In addition to clean ingredients, wherever possible we stock our shelves with local products. This includes all of our face, bath & body care products. Both K'Pure & Só Luxury are made right here in BC and our natural makeup line, PureAnada, is Manitoba made. Routine clean deodorants are an Alberta company. Even the Lac-It gel polishes we use are selected for their healthy ingredients and are made in BC!
We have expanded our island-made products over the past year, partnering with Napping Wolf for our gorgeous (upcycled!) headbands & scrunchies.We carry reusable food wraps made here in Nanaimo from local beeswax, and we have even more local makers in the queue for this year.
While we are proud of all these commitments, we know there is more to do for our planet. We have some exciting announcements coming soon that we know you'll love.
Watch for the details on our new line of top-rated healthy sunscreens and - this one we are especially thrilled about - product refills coming very soon (like,as soon as we receive our delivery of reusable glass bottles, also sourced from a local BC company!)
xo
VHL
---
Date posted 27 April 2021
Categories Announcements, News