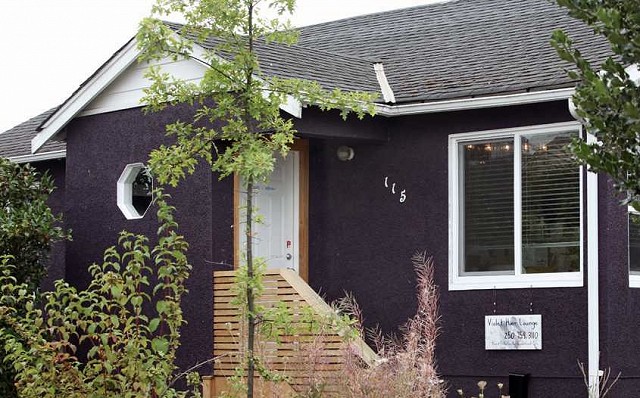 CHEERS TO US
Founded in 2006 and forged by a dream to create a collaborative & joyful salon experience, Violet Hair Lounge has always been about positivity and pampering.
BYOB
It's not what you think! Bring your own BOTTLES - of our best loved products. We have a new way to make beauty sustainable with our new refill program.
SEE WHAT's AVAILABLE & HOW TO GET YOUR V-FILL
NANAIMO PRIDE
We love love at VHL. In addition to our birthday month, June is Pride month, and we are recognizing this important celebration by supporting Nanaimo Pride Society.
CHECK OUT THE DETAILS AND LEND YOUR SUPPORT
---
CALLING ALL LOUNGERS!
Join us for a virtual toast to celebrate our 15th Anniversary!
Violet Hair Lounge has always been about positivity and pampering. Having grown from a quaint character home into an upscale downtown space, we are more luxurious than ever.
We always love a good salon party, but since #covidsucks, we invite you to celebrate our journey and 15 years of helping you look & feel your best in a different way.
Join the #VHL15Cheers party:
Step 1) If you have an appointment at VHL June 8th-19th you will receive a birthday gift bag with samples & V-Fills of our favourite products AND a mini bottle of champagne (or alchohol-free bubbles if you prefer).
Step 2) Pop open the bubbly (or Bubly) & snap a pic of yourself toasting VHL
Step 3) Post your photo on social media
Step 4) Tag Violet Hair Lounge and use #VHL15Cheers. (Not on social media? Email your photo to hello@violethairlounge.ca)
Step 5) You will be entered for a chance to win a fab gift basket on June 21st!
Don't have an appointment scheduled during our celebrations but want to join the party? Snap a picture of yourself with your favourite mocktail, cocktail, craft beer, seltzer or spritz & follow steps 2-5 above.
Cheers to 15 years of beauty, conversation, support and eco-elegance.
---
INTRODUCING: V-FILLS!
Our newest environmental initiative to help minimize our impact is one we are very excited about.
Bring in your bottles for refill and not only save on waste, transportation and resources but you will also save an average of 15% - 20% off new bottle prices.
What's on pump for refills?
HYDRATE-ME.WASH

HYDRATE-ME RINSE

ANGEL.WASH

ANGEL.RINSE &

RE.STORE
Want to try something new or need just a little? Amplify your hair regimen with 'minimalist-size' glass jars and have them filled with:
SMOOTH. AGAIN TREATMENT

HYDRATE-ME.MASQUE

HAIR.RESORT SPRAY

STAYING.ALIVE SPRAY

BLONDE.ANGEL WASH

BLONDE.ANGEL TREATMENT
Smaller jar footprint = enough cabinet space to try them all!
---
LOVE IS LOVE
There's more to celebrate!
Inclusion, equality & advocacy are founding values for us here at VHL.
From June 8th-30th we will donate $1 from EVERY retail item sold to the Nanaimo Pride Society. COVID has limited the events being held this year, but the needs of our community are increased.
Nanaimo Pride Society provides resources, support & information to our 2SLGBTQ+ community throughout the year, and we are proud to support these important initiatives.
To learn more or access their resources, visit Nanaimo Pride here.
---
Date posted 7 June 2021
Categories Announcements, Events & Workshops, New Products, News, Sales & Specials